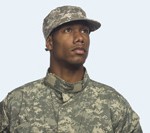 Military Commanders have a job to do which is critical for them to accomplish the mission they have been given in their command. So unless your time off for recovery interferes with that mission most will have no problem with your desire for plastic surgery. In fact we at MilitaryPlasticSurgery.com have many examples where the commander suggested to a troop that he or she undergo a procedure to meet the standards. As example, liposuction to reduce the waist line may in many cases take those inches off to pass the tape test.
Military Commanders and Plastic Surgery may be a godsend to a cohesive unit.
It could be a godsend for a commander who would otherwise lose the troop he depends on. This troop who may otherwise fail the tape test. After the liposuction procedure the sailor, soldier or marine can then pass the tape test and remain in the unit or possibly be promoted. Thus the commander may save one his or her most valuable service members instead of losing them because they cannot meet the standards. There are some issues as described in various
military publications
and bulletins regarding regulation which change from time to time but your PCP should be up to date. We advise all military personnel to check at least with their primary care doctor or PA to get approval first. The first step is to get an appointment with your PCP and frankly discuss what your plans are , if need be they can call our office for further information regarding down time and how long is recovery for your procedure. Call our office today for further information at 808-737-0205 Hawaii.