The mission of a military hospital is to take care of wounded or sick soldiers. However, as part of the benefit program, dependents are cared for in these facilities also. The issue of cosmetic surgery for military personnel has come up for discussion many times over the years.
Free plastic surgery for military ( or almost).
At the present time, some lucky military personnel are able to have cosmetic procedures performed at the larger teaching hospitals such as Tripler Army Hospital in Hawaii or Walter Reed Hospital in D.C. This is trpically at a substanstially reduced cost.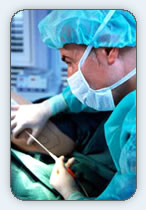 One justification by the government for such non-essential operations is that in these hospitals they must teach residents (doctors in training) to perform these surgeries so that they may meet their national training standards. In other words, doctors in residency training to be Plastic Surgeons must complete a certain case load in cosmetic surgery such as breast implant cases to graduate their training programs. Since the military training programs need to be accredited they must have their residents in plastic surgery gain some experience with breast augmentation. This raises another issue which is, many of the surgeons that perform plastic surgery at these facilities do not have the same amount of experience as a board certified plastic surgeon in private practice. So much of the plastic surgery (not all) is done by doctors in training under the supervision of fully certified plastic surgeons. However your procedure may be performed by the surgeon in charge as well. You need to decide what you want and ask if you have a choice.
There may be a long waiting list for cosmetic surgery
The other issue about seeking cosmetic surgery at military hospitals is that there is typically a waiting list as it is not the priority of the military to perform cosmetic surgery. Other more needed surgeries are the priority. We at MilitaryPlasticSurgery.com have had many reports of military being on the waiting list for 2 or 3 years and still not having it done. So you must consider carefully your choice of seeking cosmetic surgery at a military facility. Certainly the money you save is significant which must be weighed again your choice of who exactly will perform your surgery and the long waiting list.